HEADLINES TODAY
Wheat prices overnight are down 4 1/4 in SRW, down 2 1/4 in HRW, up 2 1/4 in HRS; Corn is up 3 3/4; Soybeans down 4 1/2; Soymeal down $0.30; Soyoil down 0.13.
For the week so far wheat prices are up 37 3/4 in SRW, up 44 in HRW, up 35 1/4 in HRS; Corn is up 37 3/4; Soybeans up 47 1/2; Soymeal up $2.40; Soyoil up 0.16.
For the month to date wheat prices are down 16 3/4 in SRW, up 9 1/2 in HRW, up 3 3/4 in HRS; Corn is up 41; Soybeans down 16; Soymeal up $7.80; Soyoil up 0.19.
Year-To-Date nearby futures are up 2% in SRW, up 11% in HRW, down -7% in HRS; Corn is up 13%; Soybeans up 17%; Soymeal up 13%; Soyoil up 22%.
Chinese Ag futures (JAN 23) Soybeans down 34 yuan; Soymeal down 18; Soyoil up 84; Palm oil up 22; Corn down 6 — Malaysian palm oil prices overnight were down 41 ringgit (-0.95%) at 4267.
There were no changes in registrations. Registration total: 2,653 SRW Wheat contracts; 0 Oats; 0 Corn; 0 Soybeans; 85 Soyoil; 61 Soymeal; 1 HRW Wheat.
Preliminary changes in futures Open Interest as of August 24 were: SRW Wheat down 2,658 contracts, HRW Wheat up 30, Corn up 760, Soybeans up 4,008, Soymeal down 3,029, Soyoil down 3,953.
Northern Plains Forecast: Mostly dry northeast and isolated showers south and west Thursday. Isolated showers Friday-Saturday. Mostly dry west and isolated showers east Sunday. Temperatures near normal through Saturday, above normal Sunday. Outlook: Mostly dry Monday-Friday. Temperatures above normal Monday, near normal far southeast and above to well above normal northwest Tuesday-Thursday, above normal Friday.
Central/Southern Plains Forecast: Isolated showers Thursday-Sunday. Temperatures near to below normal through Sunday. Outlook: Mostly dry northwest and isolated to scattered showers central and southeast Monday. Isolated to scattered showers Tuesday. Isolated showers Wednesday. Mostly dry northeast and isolated showers southwest Thursday-Friday. Temperatures near normal Monday-Friday.
Western Midwest Forecast: Isolated showers through Sunday. Temperatures near normal through Friday, above normal Saturday-Sunday.
Eastern Midwest Forecast: Isolated showers Thursday-Sunday. Temperatures near to slightly above normal through Saturday, above normal Sunday. Outlook: Isolated to scattered showers Monday. Dry northwest and isolated to scattered showers southeast Tuesday-Wednesday. Mostly dry Thursday-Friday. Temperatures above normal Monday-Tuesday, near normal Wednesday-Friday.
The player sheet for Aug. 24 had funds: net buyers of 3,500 contracts of SRW wheat, unchanged corn, buyers of 3,500 soybeans, unchanged soymeal, and  sellers of 3,000 soyoil.
TENDERS
WHEAT PURCHASE: The Taiwan Flour Millers' Association purchased an estimated 34,025 tonnes of milling wheat to be sourced from the United States in a tender which closed on Thursday
BARLEY PURCHASE: Jordan has purchased 120,000 tonnes of animal feed barley from two companies in an international purchasing tender, a government source told Reuters on Wednesday.
SOYBEAN SALE: Exporters sold 517,000 tonnes of soybeans to China
WHEAT PURCHASE: Japan's Ministry of Agriculture, Forestry and Fisheries (MAFF) bought 118,881 tonnes of food-quality wheat from the United States, Canada and Australia in regular tenders that closed on Thursday.
 DOE: US Ethanol Stocks Rise 1.5% to 23.807M Bbl
According to the US Department of Energy's weekly petroleum report.
Analysts were expecting 23.269 mln bbl
Plant production at 0.987m b/d, compared to survey avg of 0.976m
GRAIN EXPORT SURVEY: Corn, Soy, Wheat Sales Before USDA Report
Estimate ranges are based on a Bloomberg survey of four analysts; the USDA is scheduled to release its export sales report on Thursday for week ending Aug. 18.
Corn est. range 500k – 900k tons, with avg of 658k
Soybean est. range 300k – 1,250k tons, with avg of 867k
CROP TOUR: West Iowa Corn Yields Fall, Some Soy Counts Decline
Corn yields in three western Iowa crop-districts are lower from estimates a year ago after a total of ~192 samples taken on third day of Pro Farmer Crop Tour.
Yields in southwest district avg 173.7 bu/acre versus tour est. of 192.5 bu last year
West-central district avg 180.8 bu versus 201.1 bu; northwest avg 181.1 bu versus 183.96 bu
NOTE: USDA earlier this month forecast corn yield for all of top producing Iowa at 205 bu/acre, which if realized would be unchanged from last year
SOYBEANS:
Soybean pod counts in 3-foot by 3-foot square avg 1223.85 in southwest area, versus 1367.6 last year
Counts in west-central at 1258.9 versus 1225.2; northwest counts at 1089.7 versus 1089.35
NOTE: USDA est. Iowa soybean yields at 58 bu/acre, down from 62 bu in 2021 if realized
Tour doesn't project soybean yields
NOTE: Tour participants on western leg traveled on Wednesday from Nebraska City, Neb. to Spencer, Iowa
CROP TOUR: Illinois Corn Yields, Soy Pod Count Seen Below 2021
Corn yields in Illinois are estimated to average 190.7 bu/acre based on 245 fields sampled, down from 196.3 bu/acre seen last year, according to Pro Farmer crop tour.
Corn est. is above the 3-year avg of 185.6 bu/acre
Illinois soybeans are seen averaging 1,249.7 pods in a 3-by-3-foot square, based on 243 samples
That's below year-ago levels of 1,279.8, but above the three-year average of 1,174.9, according to tour data
"We will probably see some disappointment in corn. We are seeing lots of problems crops and they need more rains otherwise they will cannibalize themselves and we can have harvest issues." said Mark Bernard, a crop consultant for Agro Economics and a tour scout
Preliminary yield data in Eastern Iowa was seen below average according to data from the Pro Farmer crop tour.

Iowa Eastern districts 1, 4 and 7 projected corn yields below last year
Soybeans pod count were higher than last year on districts 1 and 4, but below on district 7

NOTE: The crop tour, which runs through Thursday, does not project soybean yields
Summary of US Pro Farmer Crop Tour After Day Two (Table)
The following tables are based on data from the Pro Farmer Midwest Crop Tour, that runs Aug. 22-26.
The tour heads through Illinois and Western Iowa on Wednesday
Malaysia's Aug. 1-25 Palm Oil Exports 906,470 Tons: AmSpec
Shipments rise 4.9% m/m from 864,563 tons exported during July 1-25, according to AmSpec Agri.
Brazil '22-23 Soy Crop Seen at Record High of 150.4m Tons: Conab
Production may rise 21% compared with 124m tons estimated for 2021-22 season, according to a report from Conab, Brazil's national supply company.
Soy planted area seen rising 3.5% to 42.4m hectares (105m acres) amid a promising price outlook due to tight global supplies
Yields are expected to improve compared with 2021-22, when adverse weather curbed crop potential in the nation's south and in Mato Grosso do Sul state
Soy exports may increase 22% y/y to a record 92m tons in 2023
Total corn output seen at 125.5m tons vs 114.7m tons in the previous season
Cotton crop seen at 2.9m tons vs 2.7m tons
Rice, bean production may shrink as farmers will divert areas to more profitable crops, such as soybeans and corn
Ukraine's HarvEast Plans 70% Drop in Winter Crop Area
Ukrainian grower HarvEast is planning to plant 1,500 hectares of winter crops rye, wheat, and barley on the non-Russian occupied land they now control for the 2023 harvest, compared with the usual 5,000 hectares for the area, CEO Dmitry Skornyakov said in an interview.
NOTE: HarvEast has lost about two thirds of their land to Russian occupation in Eastern Ukraine
Skornyakov says it makes no sense to seed a lot of barley as local prices are a third of international prices
Plans to seed 6,800 hectares of corn for the 2023 harvest, compared with the about 14,200 hectares they planted in the area before the war
Says 5-20% of the land they have now will be empty, usually it's 0%; about 30% of land will be low-margin crops like linen, mustard, normally it's 2%
Expects some HarvEast grain to be exported through grain corridor at end August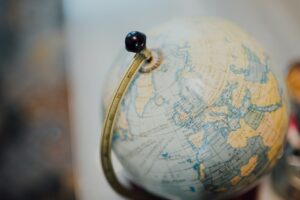 India to Restrict Wheat Flour Exports to Cool Soaring Prices
India will curb shipments of wheat flour to cushion consumers in the world's second-biggest user of the grain from rising prices, the government said in a statement after a cabinet meeting on Thursday.
"The approval will now allow to put a restriction on the export of wheat flour which will ensure a curb on rising prices of wheat flour and ensure food security of the most vulnerable sections of the society," according to the statement
The Directorate General of Foreign Trade will issue a notification on the government's approval
India's wheat flour exports tripled during April-July, compared with a year earlier: statement

Higher demand for wheat flour in the international market led to a significant increase in domestic prices
Trade estimates for Statistics Canada crop production report
Statistics Canada is scheduled to release its first estimates of this year's Canadian crop production on Monday at 7:30 a.m. CDT (1230 GMT), based on a model.
Most crops are expected to be bigger after severe drought shrunk production last year.
Malaysia Aug. 1-25 Palm Oil Exports to EU 253,810 Tons: SGS
Following is a table of Malaysia's palm oil export figures, according to estimates by independent cargo surveyor SGS Malaysia Sdn.
EU imported 253,810 tons; +25.1% m/m
India imported 163,240 tons; -7.5% m/m
China imported 106,606 tons; +65.6% m/m
Japan imported 54,724 tons; +22% m/m
Ukraine's Wheat Is Flowing Again But Fears Grow About Next Crop
Low local prices, land lost to war are threatening plantings
Seaborne trade has resumed, but exports lags last year's pace
The good news is that Ukraine's crucial grain is leaving its ports again. The bad news is that farmland lost to the war and weak local prices are threatening its next wheat harvest.
Ukraine is one of the top wheat growers, so the amount it produces will be key to determining if global supplies stay tight next year and also an important driver of world food prices.
Planting of 2023's crop kicks off around this time of year and it's still early days, but the Ukrainian Agribusiness Club said about a third of last year's wheat area has been lost due to the invasion. It warned that farmers may cut plantings further if sales remain slow.
"Domestic prices are slowly improving, but not fast," said Kateryna Rybachenko, vice chair of the club. "Logistics are still very difficult, and the ports need to clean out the bins from the previous harvest."
Most of Ukraine's wheat consists of winter varieties, which are sown from now and then lie dormant during the coldest months, before resuming growth in spring. Farmers near the western border that's farthest from the front lines are operating more normally, but the situation is more difficult moving east.
For example, Rybachenko said the wheat area at agribusiness Agro-Region, where she is a board member, may shrink about 10% to 15%.
The early outlook is another reminder of the challenges Ukraine's farm sector faces, even after the recent deal to restart exports from some key ports. That's helping sales of grain that's typically sent to to countries across Africa, Europe and Asia.
Still, Ukraine's grain exports — a vital part of farmers' incomes — stand at half of last year's pace. Traders need to clear backlogged crops from the 2021 harvest while also selling this year's crops, keeping local prices subdued.
That's prompting some growers to switch to more lucrative crops like oilseeds. Oleksandr Peretiatko said the farm he helps manage in the Volyn region will cut winter-wheat plantings by 10% to 15% from last year, while boosting the rapeseed and sunflower area.
Plantings are also under threat in areas occupied by Russian forces. Ukraine's wheat area has typically been centered in the south and east, where the fighting is concentrated.
Major grower HarvEast plans to sow 1,500 hectares (3,707 acres) of winter rye, wheat, and barley for next year's harvest on the land it now controls, less than a third of the usual 5,000 hectares for the area, Chief Executive Officer Dmitry Skornyakov said.
The company — part of Ukrainian tycoon Rinat Akhmetov's SCM holding company — has lost about two-thirds of its land to the Russian occupation, Skornyakov said.
Agribusiness Agricom Group has also lost about a third of the land it usually sows, said CEO Petro Melnyk. It will start planting winter-crops next month and wheat and rye is expected to be sown on about 15% of the available area, down from 25% to 35% normally.
While the newly opened grain-export corridor is helping sales, the pace isn't yet fast enough to significantly bolster wheat prices that remain below growing costs, Melnyk said.
Since the first grain cargo moved on Aug. 1, more than 700,000 tons of crops have been exported under the deal signed in late July and which is valid for an initial 120 days. Ukraine can normally ship out more than 5 million tons of grains a month through its ports.
Traders are also still shipping grain via rail and road, but those routes take longer and are more expensive.
"It's very important that this grain corridor remains actively open and protected," Rybachenko said. "It's a crucial thing for Ukrainian agriculture and global food safety."
Argentina extends biofuel blend rate to avoid gas import increase
The Argentine government on Wednesday extended its 12.5% biodiesel blend rate to avoid fuel import increases, having first increased it in June from 5%.
Argentina heavily relies on imports to meet its fuel demand, costing it valuable foreign currency, which is already in low supply and which the government is trying to hold on to amid sky-high inflation in the country.
Argentina is also a major exporter of biodiesel, made using locally produced soybean oil.
"We are convinced that we must bet on biofuels, which allow us to save foreign exchange (reserves). That is why we have decided… to extend the cut," said Energy Minister Flavia Royon on Twitter.
Royon did not say how long the 12.5% blend rate would be in effect, and the ministry did not respond to a request for comment.
Fertilizer Price Relief Anticipated as Farmers Assess 4Q Use
Most nitrogen prices are up after aggressive summer fills, fueled by more nitrogen plant outages in Europe due to surging natural gas prices. US wholesale and retail fertilizer prices are down significantly from spring highs, however, portending relief for farmers ahead of the fall application season.
Nitrogen Up on Idled Capacity
Record-high natural gas prices in Europe have prompted at least five more nitrogen producers to shut ammonia or other nitrogen production, adding fuel to expectations of higher Tampa ammonia prices for September. The nitrogen outages in Europe also sparked a surge in New Orleans (NOLA) and inland US urea prices, with NOLA jumping to $630-$655 a short ton (st) or higher vs. last week's $542-$578. NOLA and inland urea ammonium nitrate (UAN) prices edged higher as well, along with NOLA monoammonium phosphate (MAP) prices. Higher urea prices were also reported in Brazil, but phosphate and potash prices there remained weak amid slow demand and high inventories.
Brazil Urea Rebounds as European Outages Risk Global Supply
Recent European nitrogen plant outages triggered an increase of $30 a metric ton (mt) in Brazil urea prices this week, but potash and phosphate remained weak amid oversupply. The fate of higher urea prices depends on whether buyers step up or pull back on demand.
Idled Europe Plants Hit Brazil Urea
Urea prices in Brazil moved up $30 a metric ton (mt) after falling $60 last week, fueled by nitrogen plant shutdowns in Europe amid high natural gas prices. The elevated urea prices may be difficult to sustain, however, due to slow demand in Brazil, unsold inventories in port warehouses and competition from cheaper Iranian and Latin American tons. Potash and phosphate prices in Brazil suggest another drop, as demand remains light and suppliers focus on releasing existing inventories. Potash appears to be down $20/mt from last week, and though phosphate import prices are generally unchanged, discounted inland offers will likely pressure the market.
Risk Warning: Investments in Equities, Contracts for Difference (CFDs) in any instrument, Futures, Options, Derivatives and Foreign Exchange can fluctuate in value. Investors should therefore be aware that they may not realise the initial amount invested and may incur additional liabilities. These investments may be subject to above average financial risk of loss. Investors should consider their financial circumstances, investment experience and if it is appropriate to invest. If necessary, seek independent financial advice.
ADM Investor Services International Limited, registered in England No. 2547805, is authorised and regulated by the Financial Conduct Authority [FRN 148474] and is a member of the London Stock Exchange. Registered office: 3rd Floor, The Minster Building, 21 Mincing Lane, London EC3R 7AG.                  
A subsidiary of Archer Daniels Midland Company.
© 2021 ADM Investor Services International Limited.
Futures and options trading involve significant risk of loss and may not be suitable for everyone.  Therefore, carefully consider whether such trading is suitable for you in light of your financial condition.  The information and comments contained herein is provided by ADMIS and in no way should be construed to be information provided by ADM.  The author of this report did not have a financial interest in any of the contracts discussed in this report at the time the report was prepared.  The information provided is designed to assist in your analysis and evaluation of the futures and options markets.  However, any decisions you may make to buy, sell or hold a futures or options position on such research are entirely your own and not in any way deemed to be endorsed by or attributed to ADMIS. Copyright ADM Investor Services, Inc.
Latest News & Market Commentary