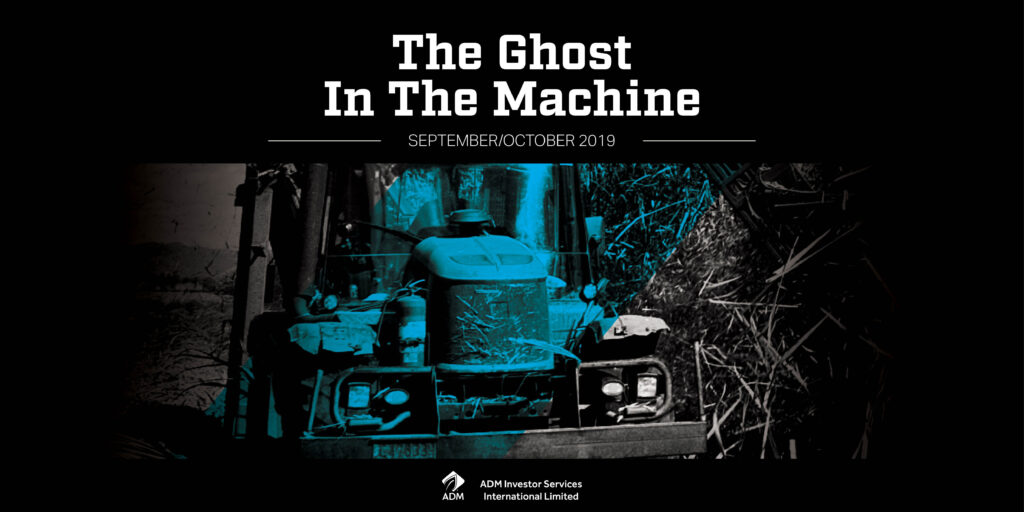 Welcome to the October 2019 edition of the Ghost In The Machine, which has a particular focus on a broad spectrum of commodities from metals, through grains and livestock to sugar, as well as India's economic outlook, and an in-depth look at recent equity market trends, with a focus on 'crowded trades' and the implications going into year end.
Gold has regained its sparkle in recent months amid expectations of further central bank policy easing, and against a backdrop of geopolitical tensions and increasing EM FX reserve demand for the yellow metal, but will this last?
Global economic outlook concerns centre around China and the Eurozone amid rising trade tensions, but the big disappointment has been the sharp slowdown in India, prompting the Modi government to adopt a series of stimulus measures; the question is whether they will get traction quickly enough.
The dramatic spread of Asian Swine Fever through China and many parts of Asia has been much discussed, but much less reported have been a rising number of viruses or pestilence impacting food production.
There appears to be a rising volume of reports about droughts in Australia every year, but statistics suggest a more complex picture, and what are the prospects for local wheat crops. It has been another poor year for sugar markets, but a new pricing service for EU cash sugar markets is facilitating greater transparency and improving market intelligence, and we also take a look at prospects for Q4 and for 2019/20 production.
Aluminium smelting is complex and highly energy intensive process, for which alternative energy sources such as solar and wind are unsuited. As such the industry has been forced to be creative in finding alternatives in an environmentally sensitive world, and one innovation may yet make Aluminium the 'green metal'.