As Angela Merkel steps down after 16 years as Chancellor, these elections mark the end of an era. ADMISI Chief Economist Marc Ostwald shares his thoughts.
Historically, German elections and indeed politics have rarely been a source of much excitement for financial markets, even the long impasse in forming the current grand coalition following the 2017 election generated little more than a modicum of Schadenfreude. But as Angela Merkel steps down after 16 years as Chancellor, these elections do mark the end of an era. I initially reviewed her legacy back in December 2018 , https://www.admisi.com/market-information/the-ghost-in-the-machine/the-ghost-in-the-machine-archive/ and this article is a follow-up to look at how the political landscape lies now. Merkel has been Germany's, the Eurozone's and the EU's 'compass', a steady hand that has guided the nation and the EU through numerous crises. She has won recognition and many plaudits for her skillful management, and her careful, but often forceful deployment of political capital. But as I noted in the previous article, she leaves behind a power vacuum in German politics as a whole, and an economy which is in dire need of the reforms that successive Merkel governments have failed to deliver, having dined out on the fruits of the hard won reforms enacted by the last Schroeder government (above all the Hartz IV labour reforms).
Nevertheless, in passing, it has to be said that if Merkel had decided to stand for a fifth term, she probably would have won easily, as these statistics suggest: 66 per cent of Germans say they are satisfied with her work; 57 per cent say they consider their economic situation good or very good (compared with 9 per cent who say bad or very bad). But as she herself observed many years ago, she never wanted to leave politics as a "half dead wreck".  Be that as it may, in the public's sub-conscious there is a real desire for Merkel 2.0, which is clearly having some influence on this election.
There is some irony that the German political system, which has largely eschewed the often pugilistic 'personality politics' of the Anglo-Saxon world, has seen only four Chancellors since Helmut Schmidt took the helm in 1974, following the 'instability' of the post Adenauer era. Each one has proven to be extarordinarily powerful, even if only Schroeder could be genuinely described as charismatic, perhaps even flamboyant, but each has exuded that steely but calm authority, which plays strongly into the often rather too complacent, small 'c' conservatism which lies at the heart of the culture of 'Ordnungspolitk'. The common aspect to all of them has been their unrelenting dedication to serving the nation, as only befits a genuine statesman, rather than their own egos or self-interest, as is so often witnessed in much of the world's polticial classes.
The specific relevance to the 2021 election is that the air of calm but steely authority has been absent, even if it is something which generally only accrues with time. What has been remarkable has been the surprisingly sharp reversal of fortunes for both CDU/CSU and the Greens relative to the the early part of 2021, when it appeared to be that the only questions for the election to answer was which of the two parties would gain the largest share of the vote, and whether they would need to co-opt a third party into a coalition, with the SPD polling at the worst ever levels at that time. But that was before CDU/CSU and the Greens selected their Chancellor candidates, Laschet and Baerbock, who have been the architects of their own downfalls, particularly as SPD's Scholz had long been selected as Chancellor candidate back in August 2020.  Laschet appears to many as a gaffe prone apparatchik, devoid of any charisma, let alone any semblance of authority, while Baerbock's frequently naïve displays underline a lack of governing experience that sits poorly in the eye of much of the voting public.
It should be noted that in contrast to Laschet and Baerbock, Scholz (who is very centrist) is not in fact the SPD party leader, a position held jointly by Saskia Eskien and Norbert Walter-Borjans, who by contrast are very much on the left wing of the SPD. It is the latter two's willingness to countenance the idea of a coalition that includes the far left 'Die Linke', which was born out of the ashes of the former Communist Party of East Germany, and which accounted for the SPD's poll debacle at the turn of the year. As much as Scholz clearly has no interest in any coalition involving 'Die Linke', he cannot explicitly exclude the possibility because he is not party leader. As the CDU/CSU's poll ratings have plummeted, they have expended a great deal of time and energy trying to exploit this, in what can only be called a very tedious 'reds under the bed' tactic, with one Laschet ally even preposteriously suggesting that a vote for Scholz would bring about the collapse of the EU. But all this 'Trumpian' bad mouthing has gotten little or no traction with the voting public, and ultimately reinforces the view that the CDU has nothing tangible to offer in policy terms.
The trends in opinion polls at the time of writing, while acknowledging that the polling differences in percentage between the 3 parties are so small as to be within the margin of error, still points to the possibility of a two party SPD/Green coalition.  Even if it would probably only have a wafer thin majority, the process of reaching a coalition agreement and then setting out its policy agenda ought to be achievable in weeks. By contrast, any form of three party coalition woud take many months, as was the case after the last election in 2017, and thereafter more than likely be under a fairly persistent threat of falling, given divergence of policy interests.  But rather more significantly, three additional Forschungsgruppe Wahalen for ZDF television polls offer some surprising insights into the public mood. The first asked how each of the possible coalitions was evaluated: good or bad. Alarmingly for all the parties, there is not one permutation that is seen by a majority as good, though there does appear to be a preference for an SPD led coalition, rather than CDU/CSU or Green.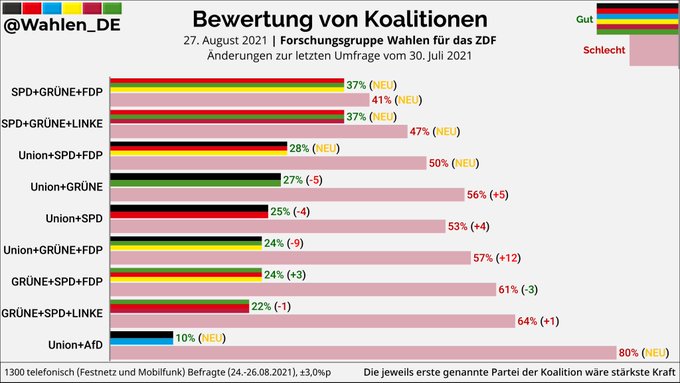 As far as the view of the Chancellor candidates go, the other two polls highlight that the public do not want any of them to take over from Merkel, and even more emphatically say that the CDU/CSU should have made Bavaria's PM Markus Soeder their Chancellor candidate.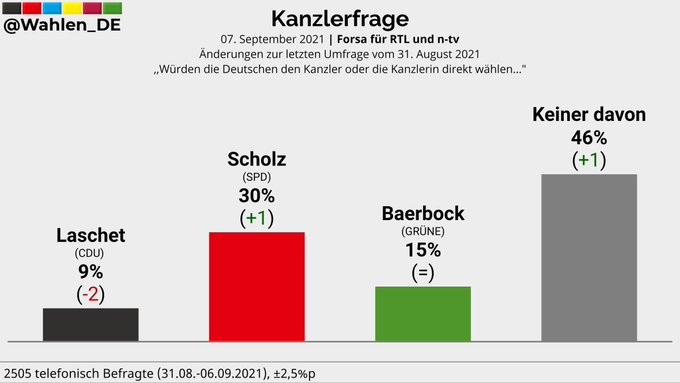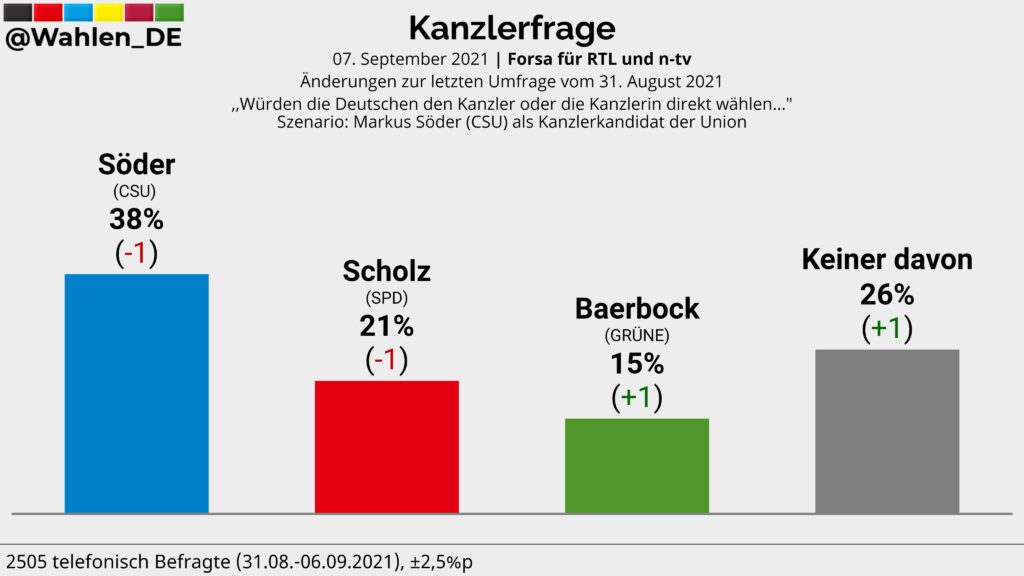 A last minute change in CDU/CSU Chancellor candidate cannot be completly ruled out, but as the CDU executive are determined to ensure their seniority in the 'union', seemingly even in the face of sharp electoral losses, it seems highly improbable. What is clear is that another grand coalition is a very unlikely outcome, and it would in any case be very different given that it would be SPD rather than CDU/CSU. It is also equally clear that the Greens are very much cast in the role of kingmakers. It should be borne in mind that the Green party has been firmly established in the German political system for more than forty years, and has gradually shifted into the centre of the political spectrum. In so doing, it has ensured that all the major parties are very much focussed on environmental policies, and the 'Energiewende' (clean energy transition), even if actual implementation has been patchy, and at times deeply flawed.
A key question which all three major parties have been rather vague about is how they propose to pay for the next stage of the 'Energiewende', given that the initial stages of the Energiewende have seen a disproprtionately high burden fall on consumers, via way of surcharges on household utility bills, resulting in much higher utility bills relative to most other European countries. The Greens will certainly demand control over the Transport and Environment ministries, with a nuclear-free Germany being a done deal in 2022. But the Greens will have to face up to some of the practical realities of their proposals, such as phasing out combustion engines by 2030 (which is resonably well aligned with the plans for the big three automakers), and bringing forward the phase-out of coal to 2030 from the currently scheduled 2038. As has been amply demonstrated in recent weeks as wholesale Power and NatGas prices have surged to record highs in Germany and across the whole of Europe, both wind and solar power production, as well as power grid distribution capacity are proving to be anything but robust, and will require major expansion if the goal of sourcing 65% of power from renewables by 2030. It is assumed that a centre-left govt would raise or impose taxes on fossil fuels to fund the transition, while a centre-right govt would look more to emissions trading schemes. Last but not least there is the question of what will happen to Nord Stream 2 pipeline, to which the Greens are firmly opposed, but both the CDU/CSU and SPD support (former Chancellor Schroeder is in fact the chairman of the board of directors of the Nord Stream 2 AG!). What the new government will probably not address is a long overdue reform of Germany's spectacularly wasteful and ponderous planning processes for public sector spending, which is perhaps the biggest impediment of all to public sector investment.
In that respect, while the CDU/CSU are very much committed to returning to a balanced budget ('Schwarze Null') once the recovery from the pandemic has been assured, both SPD and Greens have stressed the need for more public investment, which obviously has potentially profound implications for the Eurozone and the EU, particularly given the precedent set by the EU Recovery and Resilience Pact, of which Scholz was one of the key architects. Germany (along with other northern and some central European countries) have long been a staunch opponent of greater EU and/or Eurozone fiscal integration, but the Pact does open the door to perhaps removing infrastructure spending from the Growth and Stability Pact dictums on budgets and debt, which an SPD/Green government would likely endorse. In his recent meeting with Macron, Scholz also made it clear that he would like to see greater effort and urgency on the banking union, which has been stuck in the doldrums for years, and is much needed, if the potential for much more cross border financing, and indeed intra-Eurozone banking mergers is to be realised.
The rest of the EU, UK, US and other NATO members will also be watching carefully to see if the new government displays any shift in Germany's stance on defence and security, perhaps all the more so after the debacle of Afghanistan. The current German government has always advocated the status quo of sheltering under a US dominated NATO, while France (above all under Macron) has advocated for much greater European self-sufficiency and independence from the US, which both Scholz and Laschet have appeared to endorse by contrast.
There is also a generational shift going on in Germany and elsewhere in terms of the political engagement of the younger generation(s), which also has potentially significant implications, which requires a deeper consideration. This article by Dr Ulrike Franke (senior policy fellow at the European Council on Foreign Relations (ECFR)) offers some interesting insights on that topic: https://warontherocks.com/2021/05/a-millennial-considers-the-new-german-problem-after-30-years-of-peace/.
Whatever the outcome of this election, it is clear that there will be some very profound challenges and changes, both domestically and internationally, that the new government will be confronted with from the 'get go'. It is to be hoped that the result does not leave the Federal Republic in another protracted limbo period, as the 2017 election did.
Risk disclaimer: ADM Investor Services International Limited, registered in England No. 2547805, is authorised and regulated by the Financial Conduct Authority [FRN 148474] and is a member of the London Stock Exchange. Registered office: ADM Investor Services International Limited, 3rd Floor, The Minster Building, 21 Mincing Lane, LONDON, EC3R 7AG. A subsidiary of Archer Daniels Midland Company. The information within this publication has been compiled for general purposes only. Although every attempt has been made to ensure the accuracy of the information, ADM Investor Services International Limited (ADMISI) assumes no responsibility for any errors or omissions and will not update it. The views in this publication reflect solely those of the authors and not necessarily those of ADMISI or its affiliated institutions. This publication and information herein should not be considered investment advice nor an offer to sell or an invitation to invest in any products mentioned by ADMISI. © 2021 ADM Investor Services International Limited
Risk Warning: Investments in Equities, Contracts for Difference (CFDs) in any instrument, Futures, Options, Derivatives and Foreign Exchange can fluctuate in value. Investors should therefore be aware that they may not realise the initial amount invested and may incur additional liabilities. These investments may be subject to above average financial risk of loss. Investors should consider their financial circumstances, investment experience and if it is appropriate to invest. If necessary, seek independent financial advice.
ADM Investor Services International Limited, registered in England No. 2547805, is authorised and regulated by the Financial Conduct Authority [FRN 148474] and is a member of the London Stock Exchange. Registered office: 3rd Floor, The Minster Building, 21 Mincing Lane, London EC3R 7AG.                  
A subsidiary of Archer Daniels Midland Company.
© 2021 ADM Investor Services International Limited.
Futures and options trading involve significant risk of loss and may not be suitable for everyone.  Therefore, carefully consider whether such trading is suitable for you in light of your financial condition.  The information and comments contained herein is provided by ADMIS and in no way should be construed to be information provided by ADM.  The author of this report did not have a financial interest in any of the contracts discussed in this report at the time the report was prepared.  The information provided is designed to assist in your analysis and evaluation of the futures and options markets.  However, any decisions you may make to buy, sell or hold a futures or options position on such research are entirely your own and not in any way deemed to be endorsed by or attributed to ADMIS. Copyright ADM Investor Services, Inc.